If you want an Apple Watch band in Lemonade, Denim Blue, or Red Raspberry, you may want to place your order sooner rather than later.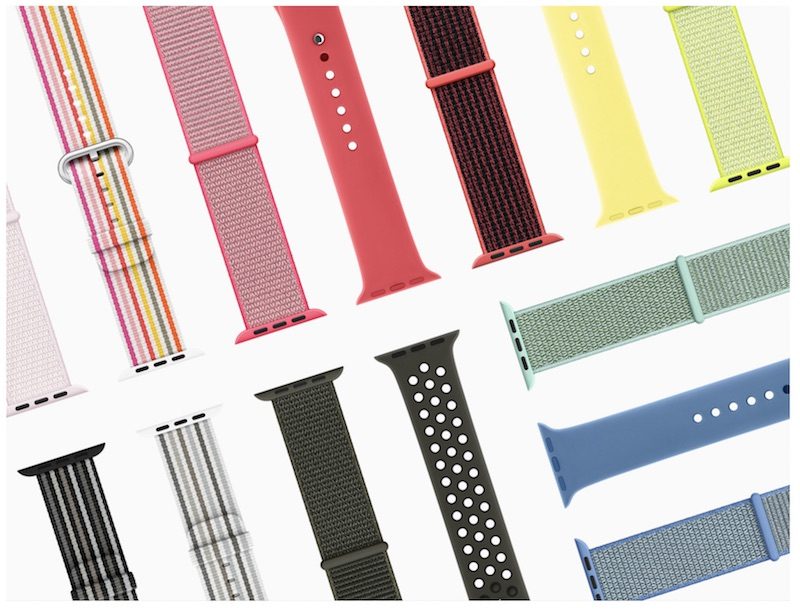 A handful of Apple Watch bands in the limited time Spring Collection are beginning to face limited to no availability through Apple's online store in select countries, nearly two months after they were first released. At least some of the bands remain available at select Apple retail stores for walk-in purchases.
Bands listed as "currently unavailable" via Apple's online store in United States:
38mm Classic Buckle in Electric Blue
38mm Classic Buckle in Soft Pink
42mm Classic Buckle in Soft Pink
38mm Sport Band in Lemonade
42mm Sport Band in Lemonade
38mm Sport Band in Denim Blue
42mm Sport Band in Denim Blue
42mm Sport Loop in Marine Green
42mm Nike Sport Loop in Pearl Pink
38mm Nike Sport Band in Barely Rose/Pearl Pink
42mm Nike Sport Band in Barely Rose/Pearl Pink
Apple also appears to have notified some of its authorized resellers that these and many other Apple Watch bands, plus its discontinued AirPort router lineup, are "no longer available to order" and "will be removed" from their stores shortly, according to an unverified tip received by MacRumors today.
Apple indicated that each of these bands would only be available for a limited time, and it's common for inventory of Apple Watch bands to fluctuate. It's unclear if availability will be replenished at some point.
The shortage of Spring Collection bands could foreshadow Apple's plans to unveil a new Summer Collection of bands, perhaps at WWDC in June, as it did last year with Sport Bands in Mist Blue, Pollen, and Flamingo, and a Pride Edition of the Woven Nylon band. Apple often refreshes its bands each season.
Looking ahead, former KGI Securities analyst Ming-Chi Kuo said the fourth-generation Apple Watch will feature a new design with a 15 percent larger display. It's unclear if the physical size of the Apple Watch will change, and if that will have any effect on compatibility with existing bands.
SOURCES BY MAC RUMORS BLOG